Vscan with Dual / Single Probe
Vscan and Vscan with Dual Probe are powered by ultrasound technology that lets you take a non-invasive look inside your patient's body, to help you make quick diagnostic decisions in diverse clinical applications.
Combining a linear-array transducer and a phased-array transducer to deliver both deep and shallow views, the first of its kind, 2-in-1 probe is always connected and ready to scan.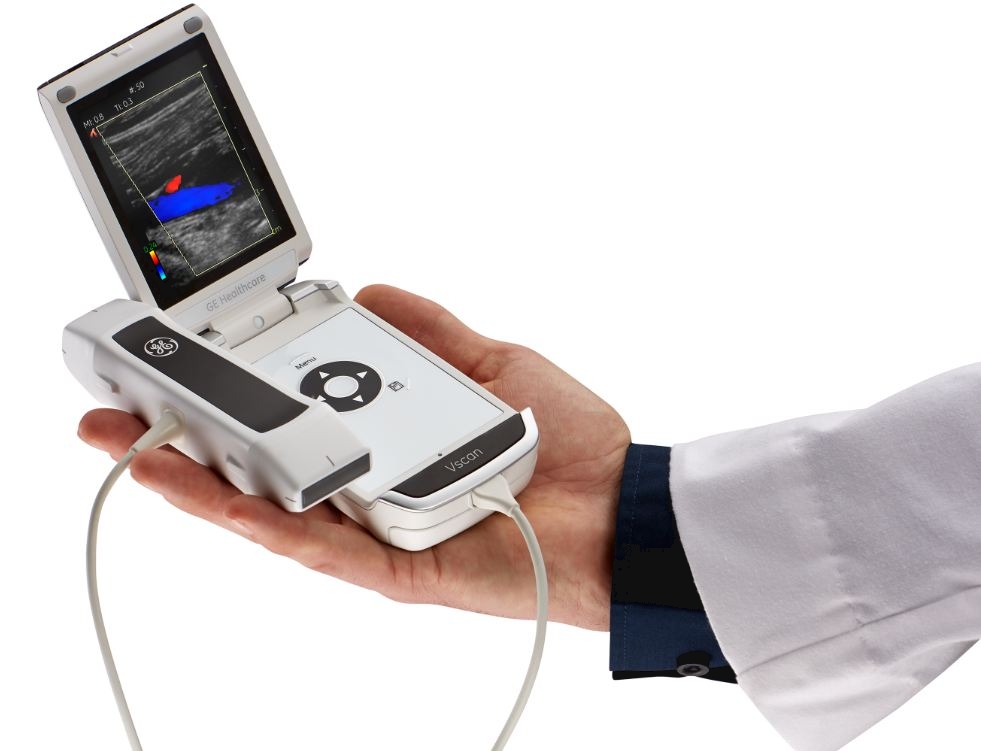 Vscan Dual - Cover 80% of core ultrasound applications with 2 transducers in the same probe.
1. Deep Imaging (phased array)
Cardiac, Lung(s), Liver, Gall bladder, Spleen, Kidneys, Aorta, OB, Urinary bladder
2. Shallow Imaging (linear array)
Arteries: carotid, jugular, subclavian, dorsalis pedis

Vascular: brachial, radial, femoral, saphenous, politeal

Long bone: humerus, femur, tibia

Hip joint(s), knee joint

Thyroid, lung(s)
| | | | |
| --- | --- | --- | --- |
| | | | |
| Linear carotid bifur | Linear popliteal vascular | Phased liver portal | Cardiac |
Acquire clinical information right on the spot without swapping probes mid-exam - just press a button to switch transducers to quickly move through clinical procedures and the triage process.
Improve efficiency
Immediate visual validation increase clinical confidence

Potentially shorten patient wait times
Lower costs
Potentially reduce exam times and costs

Help reduce the cost of care by using more affordable portable technology

Reduce unnecessary echo referrals and discharge inaccuracy
Other benefits
Small and lightweight - fits in a lab coat

Two standard imagin modes: black and white (anatomy) and colour (blood flow)

Intuitive, one-hand user interface to control with thumb

Battery charger station and battery life of one hour onctinuous scanning - good for up to 30 patients

and more...