Imaging Probe
Approved for direct contact with cardiac tissue
Validated for STERRAD® sterilization
Extreme near-field resolution (1 – 7 mm)
High frequency - up to 18MHz
The Medistim Imaging Probe offers excellent intraoperative guidance for CABG procedures. It is specifically calibrated for cardiac procedures and designed for epicardial and epiaortic imaging.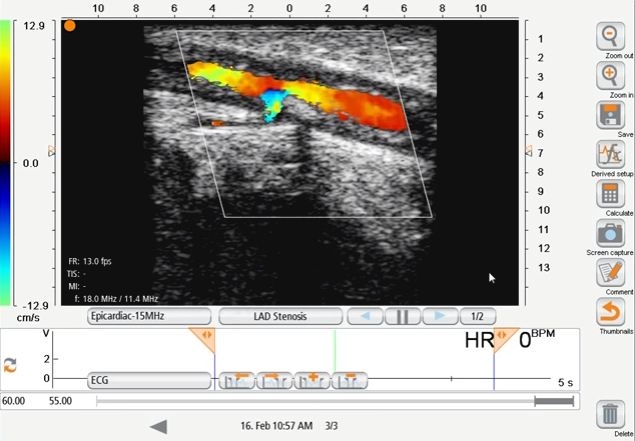 Epicardial Imaging showing plaque in LAD
This 128-element L15 transducer operates at frequencies of up to 18MHz. The following imaging modes are supported: 2D - B mode, CFM - Colour Flow Mapping, and PW - Pulsed Wave Doppler, or combinations of these.
Designed to meet worldside sterilization standards, it is unique in being approved for direct contact with cardiac tissue - a sterile sheath is not needed.
The Imaging Probe is compatible with both MiraQ™ and VeriQ C™.
Click here for Imaging Probe brochure.